Slink's Family - The Kids
| The Burrow Main Menu | Slink's Family Picture List |
In Memorium for Satin: April 17, 2005 - June 1, 2017
Our new "kids" were born on April 17th, according to their "grandmother". Their mother was a long-haired tortoise-shell gone stray from a broken home. This woman took her in, and the five kittens were born in safety. Silk and Satin came home with us as soon as they were weaned, and these are pictures of how they grew. The two chairs are identical models, only different colors. The two cats are almost identical.
May 28th, 2005 - Barely over one pound each and looking lost in this big chair, eyes still blue-green.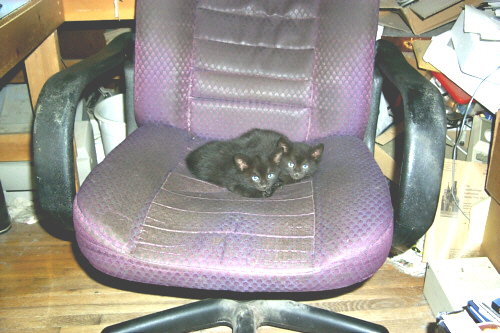 June 15, 2005 - Eyes yellow now, still learning about these big creatures they live with.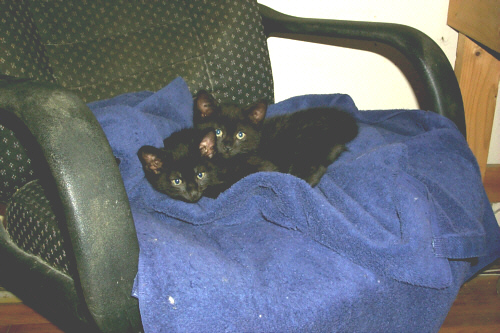 July 12, 2005 - Totally confident now, and the cords on the camera were fascinating.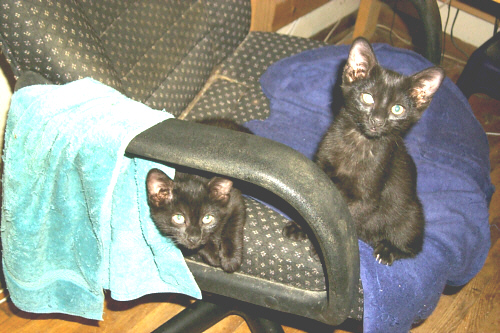 August 29, 2005 - Six-and-half pounds each and filling the chair nicely.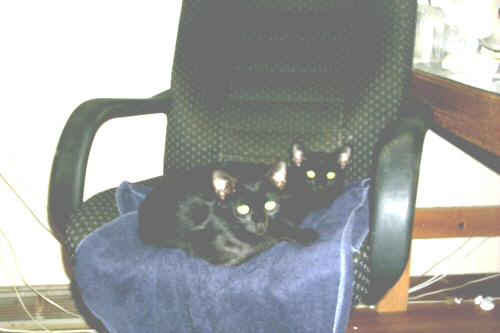 December 2, 2004 - About eight pounds each, both neutered and the small umbilical hernia on one repaired, and the fur mostly grown back on their bellies. They don't look that much heavier but when they land on your ribs from the top of the headboard, believe me that extra pound-and-half makes a difference.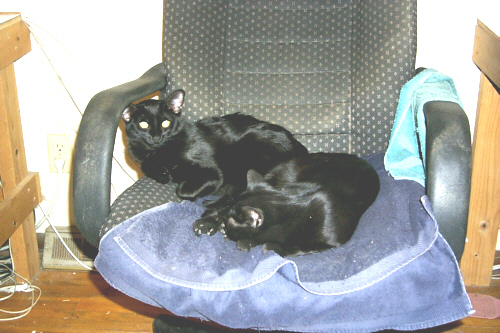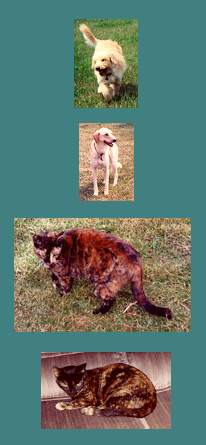 | Biscuit, a 100-pound Airedale x Golden Retriever.
| RIP 23/APR/2001 18:40 CDST, age 11
|
| Sheila, a 40-pound Collie x Greyhound.
| RIP 03/MAR/2003 08:45 CST, age 13
|
| Pandora, a 12-pound Tortoiseshell. Sister of Murbella.
| RIP 30/MAR/2002 12:30 PM CST, age 12
|
|
| Murbella, a 10-pound Tortoiseshell. Sister of Pandora.
| RIP 27/SEP/2004 18:30 CDST, age 14