Opinionated Aquarium Links
| The Burrow Main Menu |
| Slink's Tropical Fish |
Online Sources of Plant Information
Tropica Aquarium Plants: A motherlode of information about aquarium plants grown by this Danish grower and wholesaler. The plant index is extremely convenient to use, with good pictures and complete information on growing conditions. You can't buy from them unless you are a retailer, but you can make a wishlist to take elsewhere.
Online Sources of Plants
Aqua Botanic Aquarium Plant Store: No idea how reliable these people are or what the quality of the plants is like. The Hard To Kill Package #2 looks pretty good to me, and I might have tried it in my most recent order had I not decided to go with another vendor who also carried snails. Some of the combination packages contain Aponogetons, though, so be careful. Most Aponogetons require a winter dormancy, which is inconvenient at best in a tropical fish aquarium.
AquariumPlant Dot Com: Home of the 24 Plants For $30 Including Shipping deal. I ordered a package very similar to this about six years ago. I remember that I was very pleased with the large collection of plants, and completely confused about what I'd gotten. I ordered it from a magazine so I did not have the nice collection of pictures that are on this website, to use in identification. Eventually the lack of light and my cichlids combined did in all the plants, but they were fun while they lasted. Not a bad way to spend $30 if you have no idea what you want.
Arizona Aquatic Gardens: A large selection of plants, of which my ordered choices (mostly) came to me in a timely fashion and in good condition. I had two gripes. One was that I ordered $15 worth of Malaysian Livebearing snails with my plants. These were canceled off my order with no notice and because cancellation of that item lowered my order below $100 I was then charged a $5.00 box fee. I don't think it is appropriate to reward yourself with $5.00 extra for failing to deliver an ordered item without notice to the customer. The second was that I requested that they contact me with the shipping charges because these are not calculated in their shopping cart and, as I told them right on my order, if the charges were too high by my chosen method of delivery I wanted to change the method. They had both my e-mail address and my phone number. Their answer to me was to go to the Fedex website and look it up for myself, an prime example of apathetic service in it's own right, but which might have actually been useful if it hadn't been printed on the invoice in my box when it was delivered to me for nearly twice the basic FedEx shipping charge quoted on their website. The resulting price per plant was still reasonable, but I don't find their claim of "We will do everything we can to make each customer happy" to be terribly accurate. Of course they do go on to say "and we will treat you like you're part of our own family" which at least in some families wouldn't be much different from the way I got treated. Part 2: The missing snails arrived, unexpected and unannounced, ten days later by US normal mail. The temperature outside was below freezing. The snails were bagged in about one cup of water, along with 2 un-ordered apple snails and three sprigs of anacharis. One of the apple snails was dead and decomposing, and the smell in the bag was unbelievable. 14 of the Malaysian snails were actually just empty shells, and the order was short about 10 Malaysian snails (or shells) in any event. After three days of submersion in clean, warm water only 6 snails proved to be alive. I called Arizona Aquatic Gardens and complained bitterly. They admitted fault and refunded the $15 price of the snails, the $2 additional shipping for the snail box, and the $5 additional handling on the original shipment. I will not order live animals from this company again. Part 3: I also now have an infestation of pond snails and ramshorn snails that must have hatched out from eggs on the plants as I had no snails whatsoever before the plants were received.
Online Sources of Fish Information
Resources For Aquarium Owners : This site was recommended to me by a young lady named Ashley. While I am not totally convinced of the necessity for krill oil in my diet, there is useful aquarium information at the links given on this page. Also, some of the linked pages contain more links, providing an entertaining profusion of information.
Online Sources of Fish
Armke's Rare Aquarium Fish : I got excellent service from this outfit. The fish were delivered when they were promised and in good health. The company called me the day before to be sure I was ready for the shipment and to verify the order and method. Before that I had exchanged several e-mails and the answers were all helpful and friendly. I had to wait a month for my order because one species that I wanted was out of stock, but they didn't lose my order in the meantime and it was filled the day after the new supply were ready to ship. Shipping from Texas to Des Moines was $70 for 21 fish delivered to my door. It would have been no cheaper if I had picked them up at the airport, but I could have had more fish shipped for the same money. Distributed over the 21 fish the prices were quite reasonable even with shipping. I ordered all small fish, and they were mostly around 1.25 inches long. The Synodontis petricola were only an inch long, but they grow very slowly and they are certainly lively enough. I would order from these people again without hesitation, if I could afford more tanks and more fish.
Wet Thumb Aquatics : Sorry to say I cannot recommend this place wholeheartedly. This makes me sad because the woman who runs it has been doing so for only four years less than I've been alive. She was courteous, friendly, the delivery was prompt, and three extra fish were included with my order of 27. Unfortunately the entire reason that I placed the order was to buy Synodontis petricola on sale, and the entire lot bore injuries from overcrowding. The woman denied that there was anything wrong with the fish, saying that it was normal for them to be missing spots at random. Below is a close-up of one of the fish with it's flayed skin. All ten bore four identical wounds, two on each side of the rear of the body. This is apparently typical of injuries to overcrowded catfish, who abrade each other's flanks with their sharp spines. The fish are still healing after over a month, so the loss of that much skins was not trivial. Some of the Synodontis also have deformed tails, possibly from excessive agitation in an egg-tumbler.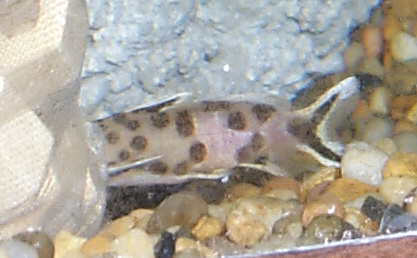 The remainder of my order were cichlids, which were small but healthy and bore no deformities. I judge this to be fair for the price.
Forums

The African Cichlid Resource Forums: I found this board to be incredibly hostile to those outside the ruling clique. By my observation some of the moderators do not accept any implied criticism or correction of nonfactual information. The administrator assured me that the board is exactly as he would wish, so obviously I no longer post there. In fact, he has threatened to sue me for posting a negative opinion of his board on my own website. I found no factual information here that I was not able to find elsewhere under more pleasant circumstances.
Fishindex Message Board: This board is a friendly place and you don't have to avoid mentioning other websites. There are a wide range of skill levels represented here. If you ask a question you will get a correspondingly wide range of expertise in the answers. Nevertheless, personal antagonism over differences in opinion seem to be at a minimum. I like this board, as you might guess. (August 2002 I became a moderator here.) 2011: Sadly, this board is gone. The owner's wife had serious health problems, which may have become worse.
CICHLID-Forum.com: Interesting place to visit when FishIndex is slow.